Here you'll find chapters from some of my books, a few short stories, and a small selection of my writings.

I once met a pilgrim in Paris. Many years after that meeting she saved my life. But that's getting ahead of the story – a story about love and death, about passion and promises, both kept and broken. A story about journeys, and the people who make them, traveling on foot through the deep green countryside of France and the treacherous passes of the Pyrenees, across the sun hammered plateaus of Spain, and through the most dangerous country of all – the human heart.
That meeting lead to this novel, which is now in work, and to the journey I'm now beginning. The first chapters can be read here: http://www.jamesmorganayres.com/pilgrims-lovers/ I expect to have this novel completed by the New Year.
Follow Sojourner's Journal to see my progress.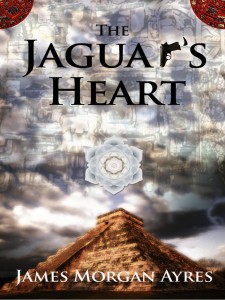 The Jaguar's Heart opens explosively during the assassination of a U.S. presidential candidate and takes the reader into the world of Sangre de Dios, a shadowy drug soaked cult steeped in Aztec and Toltec mythology and practicing human sacrifice. The cult's demonic leader promises immortality for the chosen few and slavery for the rest of mankind.
Jesse J. Rideout, a patriotic idealist recruited at nineteen from Special Forces Training Group by the C.I.A. and trained as a penetration agent and assassin becomes a fugitive when he discovers that he's embroiled in the assassination of a U.S. presidential candidate. Now surviving as an amateur archeologist and artifact smuggler in Mexico, he uncovers a powerful Toltec artifact. Sangre de Dios' attacks him to recover the artifact, and horribly murders his best friend on a blood soaked pyramid. To save his own life and to destroy an ancient horror Jesse must undergo a mind-bending transformation to learn if the cult leader has real occult power or if his followers are deluded by exotic hallucinogens.
Katarina Castillo: daughter of the aristocracy, a young woman facing unimaginable horror and discovering new depths of courage, learns new skills under Jesse's tutelage and becomes his partner in their desperate attempt to stop the cult, which has subverted the highest levels of U.S. government.
Their only allies, a curandera steeped in Toltec wisdom, and the secretive Society of the White Rose, sworn enemy of Sangre de Dios.
The first chapters can be read here:
http://www.jamesmorganayres.com/the-jaguars-heart/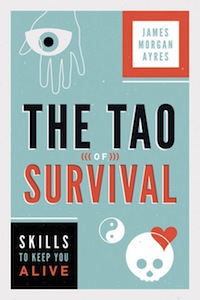 A recent book, The Tao of Survival, teaches you to fend of illness, avoid accidents, awaken your senses to the pure joy of life all around you – and to survive anywhere on this planet.
On the left side of this page are chapters and photos from my blog and newsletter, Sojourner's Journal, which includes short stories and articles, reviews and reflections.
To subscribe to Sojourner's Journal Newsletter, please fill in the form to the right.
Thanks for visiting,
Morgan