Here you'll find chapters from some of my books, a few short stories, and a small selection of my writings.

I once met a pilgrim in Paris. Many years after that meeting she saved my life. But that's getting ahead of the story – a story about love and death, about passion and promises, both kept and broken. A story about journeys, and the people who make them, traveling on foot through the deep green countryside of France and the treacherous passes of the Pyrenees, across the sun hammered plateaus of Spain, and through the most dangerous country of all – the human heart.
That meeting lead to this novel, which is now in work, and to the journey I'm now beginning. The first chapters can be read here: http://www.jamesmorganayres.com/pilgrims-lovers/
Follow Sojourner's Journal to see my progress.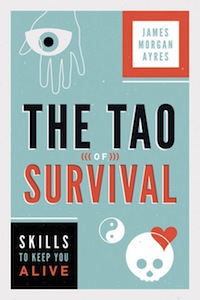 A recent book, The Tao of Survival, teaches you to fend of illness, avoid accidents, awaken your senses to the pure joy of life all around you – and to survive anywhere on this planet.
On the left side of this page are chapters and photos from my blog and newsletter, Sojourner's Journal, which includes short stories and articles, reviews and reflections.
To subscribe to Sojourner's Journal Newsletter, please fill in the form to the right.
Thanks for visiting,
Morgan