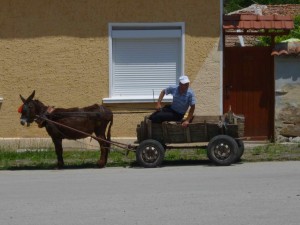 Most of our friends and readers know that ML and I relocate every few months, moving from country to country by various means of transportation as the sprit moves us, and as the current visa regulations require. Thus the name of this journal.
We are travelers and sojourners as a matter of choice, have been for decades. Over the years I've traveled to or lived and worked in over fifty countries in Latin America, Asia, and Europe, and with ML accompanying me to almost that many. During the past few years we've returned often to two countries: Turkey and Bulgaria. Doing so has elicited questions from friends and readers, 'What do you like about Turkey and Bulgaria, and why do you return to those particular countries?'
I'll respond to those questions. First Turkey, Bulgaria will have to wait till later because we're about to depart for Spain.
The Ancient World
In Turkey we live surrounded by the ancient world, by the physical remains of cities and civilizations spanning millennia. Theaters, tombs, churches and mosques, tumbled stone walls, monuments and statuary, walkways, baths, cisterns – all hewn from stone and meant to last for centuries. These have endured, even if tumbled and worn. These remnants of times long past resonate for me, and remind me that we are only a short chapter in a very long story.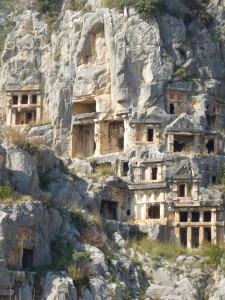 These particular tombs were carved from the raw marble of the mountain by Lycians, who were contemporary with Bronze Age Greece.
These tombs overlook a theater that seated thousands, a summer night, a million stars, a tragedy or comedy on stage, human stories not very different than those of today.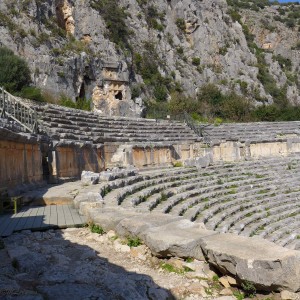 This is a working excavation and restoration, and broken columns and carvings are being sorted and stored in the grounds.
Tortoises, perhaps descendants of those who lived here two thousands year ago, roam the theaters halls.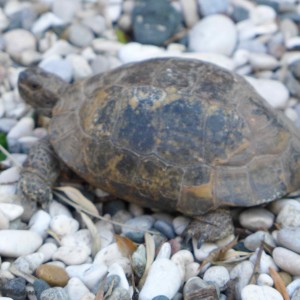 On the other side of this hill is a marble quarry, over the centuries it has produced marble used by Lycians, Romans, Byzantines, Ottomans, and today, by countries around the world.
Many of these ancient sites are unattended, no ticket gate, ticket taker, or souvenir sellers. Kyaneai's city walls are almost completely overgrown, it's theatre, walkways, and tombs taken by flowers and vines, visited only occasionally by travelers and mountain winds.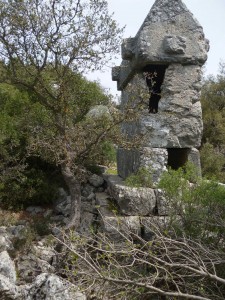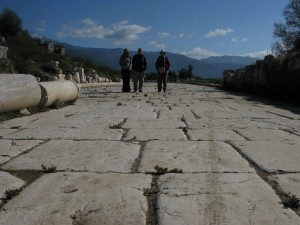 At Xanthos there a single polite fellow who sells tickets for the price of a cold drink, and, rarely, another traveler to walk its streets and meet its only residents, sheep and cats.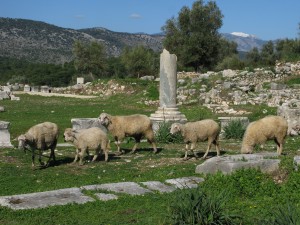 A Byzantine church built over a millennia ago sits abandoned in a green meadow, surrounded by rolling hills, and farmer's fields, a short work from a muddy lane where we left the car. We went there with friends who knew the way, driving a few hours on winding mountain roads, climbing up from the seashore where we live. The drive was a pleasure, passing through tiny villages, local folks waving and smiling, stopping to wait for sheep to cross the road, the countryside a bucolic vision from long ago. No such countryside remains in the United States, all now given over to industrial agriculture with gargantuan machines rending the earth. The ruins of the church are just another one of hundreds of ancient sties, unattended, weathering a little more each year, visited by few.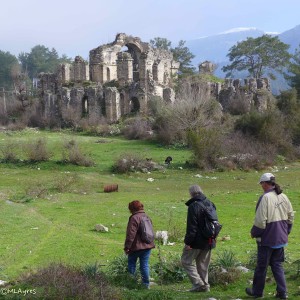 In Antalya, Hadrian's Gate, built to commemorate the emperor's entrance to the city in 130 AD stands in the middle of a busy commercial street. The towers next to the gate were built much later by Ottomans. The street in front of the gate, the tracks the streetcars run on, the high rise buildings that surround it, all artifacts of the modern world, layer upon layer the accretion of time.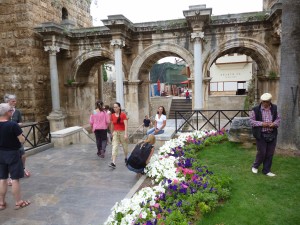 Lycian tombs are also to be found on the sides of country roads, next to cafes, and in the center of Kas, illuminated by shop lights, noticed only in passing by nighttime shoppers.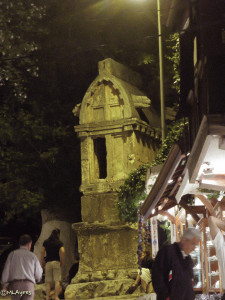 A stairway carved from rock rises from the stream under the waterfall up the side of a mountain to a village site long abandoned. Who built these stairs? Did the stream run in the same course as it does today? The water looks clear and clean, and carries trace elements of granite, marble, and slate, from the hill above.

Slight traces and echoes of the people who built these cities remain embedded in the stones. On a still night in solitude and silence their voices can be heard, their presence felt.
Cat Houses, Cat and Dogs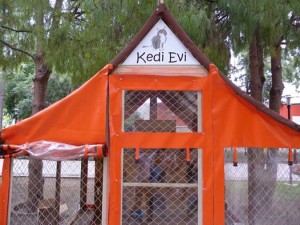 This is a 'Cat House' in a city park in Antalya, a safe place for stray kittens. People come to feed them, care for them, and adapt them. There is also a catch, neuter, and release program. Many, if not all, towns in Turkey have similar facilities.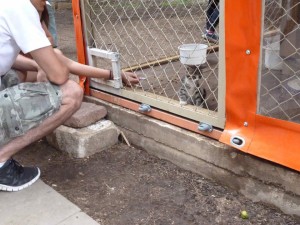 In Turkey cats, and dogs, are free to wander about and live their lives doing cat and dog things. They do not have to be on leashes or face death at the "humane shelter."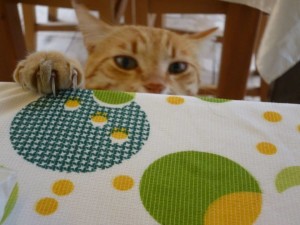 Turkish Breakfast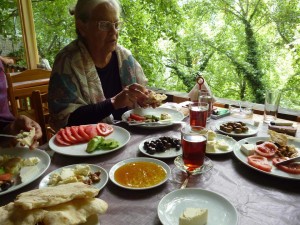 Turkish breakfast among the treetops. Breakfast in Turkey is a grand affair with at least ten dishes: eggs, sausage, tomatoes, cucumber, three kinds of cheese, walnuts, fresh hot bread, honey, freshly churned butter, endless glasses of tea, and…it goes on and on.
Edible Roadsides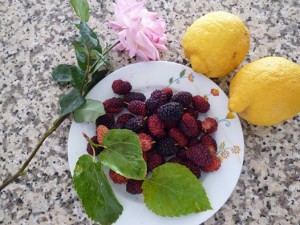 Rather than ornamental vegetation, or green painted concrete, the local communities plant fruit trees along the roads and in the medians. The fruit is free to all, and mostly picked by Babas – grandmothers. I picked these few things on the way home from the village center.
The Evening Show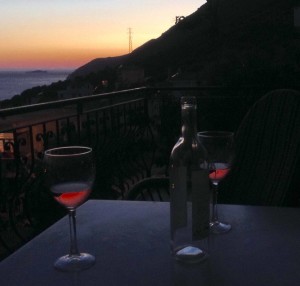 The view from our balcony and a glass of wine before dinner.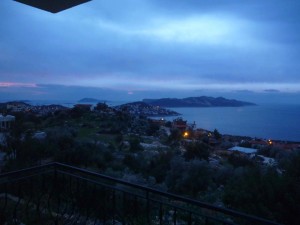 While we're on the balcony having a glass of wine we watch the Evening Show. A neighbor brings in his goats and sheep that have been grazing in the field, a large flock, the sheep like clouds drifting over the ground, goats recalcitrant as only goats can be. Another neighbor leads her cow home, bell jingling. The young boy who has been playing king of the mountain on a small pile of rocks with two baby goats climbs down and heads home for dinner. The muezzin sings his evening call to prayer, not too bad a voice tonight. Think they got a new guy. Sailboats head into harbor, cutting red wakes in the wine dark sea. Dogs bark. Roosters crow. The scent of rosemary and limes flows up from the garden. The doorbell rings. It's Ibrahim with scallions, tomatoes, and cucumbers from his garden – a present, 'Enjoy,' he says. Stars and lights wink on. The sun slides into the sea.
There's more. The Golden Horn in Istanbul, one of the world's most legendary bodies of water, still active today,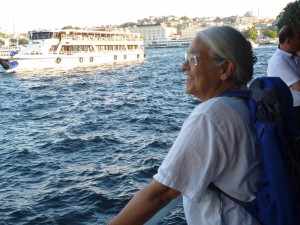 the Blue Mosque at night,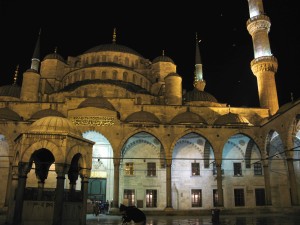 the museums of antiquity,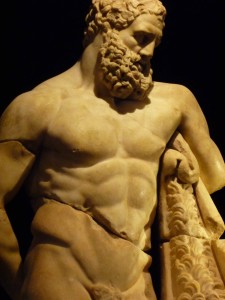 but really, more than all that, what brings us back to Turkey are the people. That's true of Bulgaria also, and Italy, Gozo, France, and other places. It's the wonderful people we've been fortunate to met that bring us back to all these places.
People
In a half century of traveling the world I've rarely met a people as friendly, open hearted, and generous as the Turks. There are beautiful sunsets, good food, and engaging local customs in many places. But here are friends we value and people who bring us back again, and again, and again.