In late January we traveled from Bulgaria to Barcelona, then to Granada, and up into the foothills of the Sierra to live for a while in a village called San Clemente – a village in name only, with six houses, a bar, and a dozen or so abandoned cave dwellings cut into the hillsides. We lived in a white villa, a rambling affair with uneven floors, low ceilings, many twisted stairs, two stories, and four bedrooms.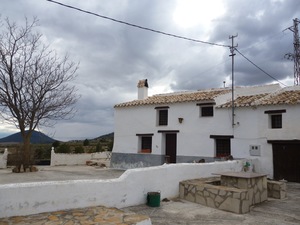 The low, timber,overhead beams were marked with burls and knots, many of which left a clear impression on my head. We lived there for many weeks with two friends and a ghost. Steve and Kathy are charming folks, and dear friends. The ghost was a pale young women with long black hair. She wore a white shift, and often sat in a red velvet chair under an oil painting of a handsome young man who she had fallen in love with, sat and pined for her lost love.
The fire burning in the hundred year old enamel stove circulated through a mysterious system of pipes to warm the entire house. Outside the wind come down honed sharp by the snow covered peaks around us. Nights were cold and clear, the ink dark sky cut through by rivers of stars that cannot be seen in cities. North of our location the hills rise up into the Sierra proper, miles of peaks, declivities, and hidden folds with ancient footpaths leading to streams, and hillsides embedded with fossils from the sea floor, and abandoned villages out of time. The Spanish hills hide many secrets, battlegrounds that still radiate the savagery of the Spanish Civil War, isolated cabins at the edge of a stream housing refugees from the modern word living in the old way, with their gardens, a few chickens, a goat or two.
Our villa sat at the edge of a cliff overlooking a canyon filled with life, and with death.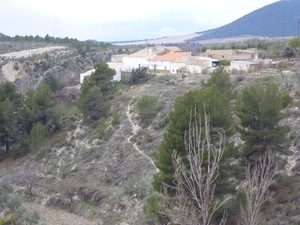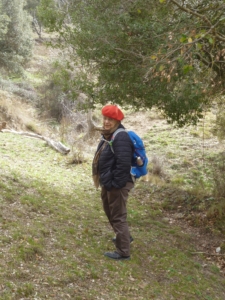 On sunny days we took long walks through the canyon wearing windbreakers and carrying rucksacks with lunch.
Small garden plots flourished in the rich bottom soil. Olive trees leaned out from hillsides. Swallows and jays sheltered in stands of white birch and pine.
In the evenings foxes flitted through shadows in search of hares or low nesting birds, scattered feathers and rabbit hair lingering evidence of their success. A mixed flock of goats and sheep grazed on wild grass, neck bells tinkling. A shepherd in a slouch cap and antique suit jacket with three small dogs watched over them. Griffin Vultures three to four feet high when sitting lurked on the canyon rim. One day a goat died on the canyon floor. The vultures spread their wings, wide as a car is long, and glided down, ominous shadows, reminders of that which awaits all. Within three days all trace of the goat had disappeared.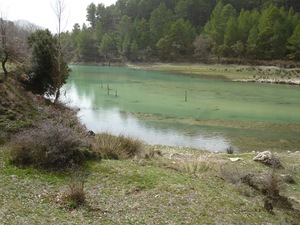 The nearest town to San Clemente is Huescar, an ordinary small town in Andalusia with no spectacular architecture and no tourist sights, a place where tourists never come. Huescar's inhabitants are easy going friendly folks. At the Tuesday market each week we bought fresh local vegetables and excellent Serrano ham, easily the equal of anything produced in Parma, and for the best olives I've ever tasted, harvested from the groves that surround the town and cured by a small family operation. Olives became food rather than a garnish.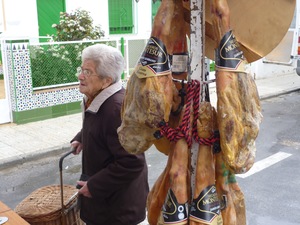 The market is also a social center. The vendors and other shoppers remembered us from week to week. They smiled at me for taking photos of such ordinary things as ham and cheese and tomatoes. Next to the market is a coffee shop, and in front a lady who makes churros, a long twisted doughnut that I had thought originally came from Mexico. The churro lady informed us that the Spanish brought the churro from Andalusia to Mexico. The proper way to eat churros is to dunk them in your cafe con or cup of hot chocolate, which we did every market day.
Returning to the house from Huescar we climbed through miles of rolling hills covered with almond groves in bloom with pink blossoms like coloured snow. The hills rise slowly through spruce and pine and are slashed with ragged canyons. We passed by a lake where on some days a rainbow arched over with colors I've never before seen in a rainbow, lavender, deep purple, and indigo.
At the southern end of the lake is the clear running stream that cut the canyon from slate, shale and granite. That's where we lived for part of that winter, on the west rim of the canyon, on the other side of the rainbow.