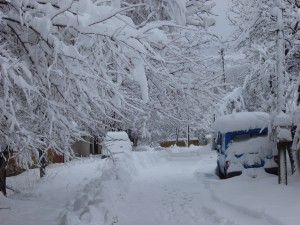 We've had about a foot of snow on the ground for the past few weeks. Power and Internet were out for two or three days, which provided a respite from all the buzz. Here in the village the snow is clean and muffles all sound. We hear no traffic from the nearby road. During the day we hear the bleating of a few goats, dogs barking, the neighbor's turkeys gobbling. Outside at night we hear only the soft wings of the owl that lives in the barn, howls of the jackals and wolves down from the hills, and if you listen carefully snowflakes settling to earth. Inside there's only the crackle of our wood fire, and Dinah Washington singing, 'What A Difference A Day Makes.'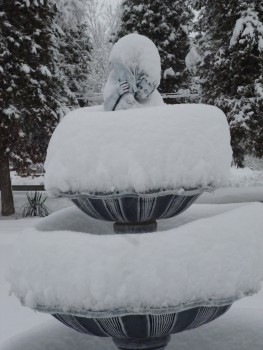 On New Year's eve we walked down the lane breaking through fresh snow, the scent of woodsmoke in the still air, a million million stars in the clear night sky, to dinner at a friend's home. There were a dozen other expats, all Brits, save one German. At midnight we all linked hands and sang, Auld Lang Syne. I admit to tears, too many absent friends.
Today was Ivan's name day, not birthday, but the day the Eastern church celebrates the saint for whom he was named. Byzantium still lingers in these parts. Even though Ivan's English isn't much better than my Bulgarian, which is almost nonexistent, we've become good friends during our visits here. Ivan's one of those guys who can do anything, cook a tasty meal, build a house, dance all night with the ladies, all of whom seem to love him – handsome fellow with craggy features and a thick mustache. Ivan was in the Soviet Army about the same time I was in the U.S. Army, Cold War Era. We've talked about how, if things had gone differently, we could have faced each other over rifle sights rather than a glass of wine. This awareness deepened our friendship. There are certain things only soldiers can understand.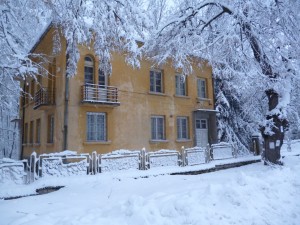 Ivan invited us and a couple of other friends for lunch to celebrate his name day. Ivan makes his own wine, which is quite good. Gamay grapes I think. He also makes his own rakia – brandy -which is very smooth, sneaks up on you and make the knees of the unwary go wobbly. Ivan's cellar is filled with barrels of pickled cabbages and cucumbers, and jars of plums, peaches, green beans and other vegetables. All of which he grew and canned himself. His neighbors have a few chickens, goats, sheep, pigs, from which come eggs, milk, and meat. Ivan is always busy, doing work he appears to enjoy. Folks who are interested in off grid living and sustainability could learn much here.
Lunch was excellent: fresh hot baked bread, three salads, potatoes, roast pork, and cheesecake, along with wine, rakia, and a drink Ivan made by decanting a jar of his peaches, adding some water and blending it – a Bulgarian village smoothie. Events such as this are leisurely affairs, with time for conversation between courses, a glass of wine, a bite or two of this or that, the hours pass, the line between work and relaxation clearly marked. There is a way of life here that I feel lucky to witness, to be a small part of. I think it's fading fast.
I was attacked by a dog pack in a village lane last week. I was alone, friends inside our high-walled compound. It could have gotten ugly, but I had a stick and was able to fight them off. Fortunately, these were only ill tempered village dogs, not the feral dogs that sometimes interbreed with jackals. Feral packs, part jackal or not, are a danger in the Balkans, even in the cities. Sofia alone is estimated to have over 10,000 stray dogs. Some pack up and go feral. Maulings are not unusual. Feral dog packs killed three people during the last couple of years in Sofia, one of them a visiting American. Life here might not be for the faint of heart, but it is rewarding in ways that might be difficult to understand from the air-conditioned comfort of a suburban home.
Our new book, Essential Survival Gear (written by me, photos by ML) has just been released. Sorry folks, no camo or automatic weapons, just simple, minimal gear and how to use it, with a few stories to illustrate certain points, stories that I hope are entertaining.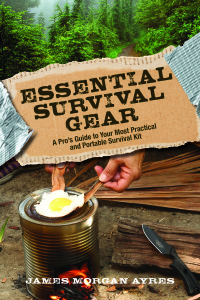 This book explains how I (now we) have been able to travel the world for decades with only a small bag and be prepared for anything anytime: wilderness, disaster zones, a fashion show in Paris, dinner in Hong Kong, Istanbul, or Rome. And how you can do the same, or stay at home enjoying life and be prepared for disaster without getting into survivalist silliness.
Ivan's way of life is one example of preparedness. There are others. Our friends in the Le Marche region of Italy buy in bulk and will typically have on hand 40-pound bags of rice and wheat flour, 20-pound bags of white and lima beans, and large cartons of pasta. There's always at least one whole prosciutto (dried ham) and various dry salamis and sausages; a large wheel of dry Romano or Parmesan cheese; a 20-pound tub of olives; strings of garlic; bins of potatoes, carrots, turnips, onions, and apples; large cans of tomatoes; and gallon jugs of olive oil. Ten-liter, straw-sheathed, green glass jugs of red and white wine come from the local co-op. In France, in addition to flour and other staples, it's pâtés and terrines of goose, duck, and pork, which keep for months. Even city apartments have space to store dry and canned foodstuffs. During the years we were raising a family and maintaining a home in a large city, we always had on hand a supply of staples that would last for a month or so and a few weeks supply of bottled water. Simple prudence really.
In this book I explain in detail the four layer system which consists of:
1. Your clothing and what's in your pockets
2. A ready bag small enough to always be with you, a purse or briefcase for example
3. A small, light, rucksack
4. Home base, which is for most of us a house or apartment in an urban or suburban area
Equally important as this minimal gear are the lessons on how to use it, and, building on one of my previous books, The Tao of Survival, survivor's mindset. Publisher's like the word 'survival.' It's currently a hot button. From my perspective, what I write about is life and living.
Essential Survival Gear: A Pro's Guide to Your Most Practical and Portable Survival Kit
http://www.amazon.com/Essential-Survival-Gear-Practical-Portable/dp/1493015273
Tao of Survival: Skills to Keep You Alive
http://www.amazon.com/Tao-Survival-Skills-Keep-Alive/dp/1423632311